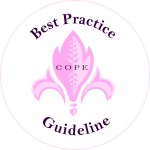 Free online training for health professionals
In response to the recognised need for free, accredited online training for all primary/maternity health care professionals, COPE has developed a new, accredited online training program for health professionals.
The new Program will be launched at the National Marce Conference on October 26, 2017 to mark the launch of the new National Perinatal Mental Health Guideline.
To register your interest to be notified on the new online training program and other Guideline resources, register your details here.