The perinatal period (including pregnancy and the following year) is a time of great change in a woman's life, and it is common for women to experience a wide range of emotions. For many women, feelings of worry and stress resolve by themselves. But in some women, pregnancy and early parenthood can trigger symptoms of more serious mental health problems. Health professionals play a key role in identifying those at risk.
Some women may be more vulnerable to mental health disorders in the perinatal period due to a combination of biological, genetic, physiological or social factors.
The risk is greater for women who have had mental health problems before, do not have enough emotional or practical support, or have been through difficult times (eg family problems, abuse or loss). Drug and alcohol use can also contribute to the development of mental health disorders.
Psychosocial risk assessment
Psychosocial risk factors are identified by asking a series of questions (see below). This enquiry aims to identify psychosocial risk factors without detracting from the normal experiences of pregnancy and motherhood or highlighting the potential for depression and related disorders to occur in the perinatal period.
When to assess for psychosocial risk
As early as practical in pregnancy and 6–12 weeks after a birth, all women should be asked questions around psychosocial factors as part of normal care. If a woman confirms the presence of psychosocial factors, she should be asked whether she would like help with any of these issues.
How to assess psychosocial risk
Psychosocial risk can be assessed by asking a series of questions which reflect known risk factors. Below are some example questions that can provide a basis for discussion and can be adapted to the woman.
Sample of psychosocial risk questions
Below is a sample of psychosocial risk questions, as indicated in the beyondblue Clinical Practice Guidelines.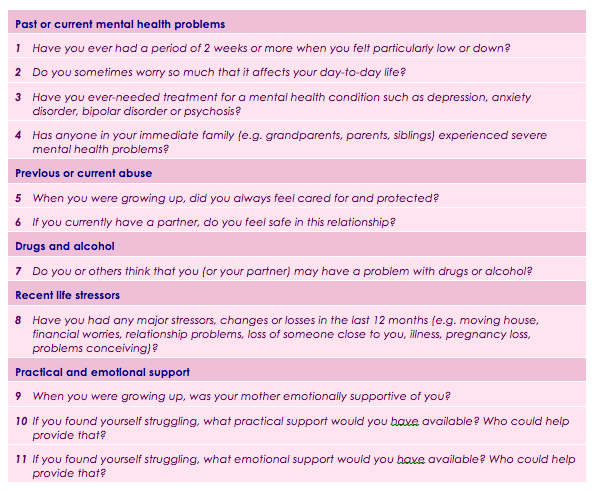 The discussion does not need to be restricted to the key questions and it may include the woman's wider psychosocial context.
Best practice is to use a range of styles of questioning (e.g. using a closed question to begin discussion about an area, then open-ended questions to seek further detail and explore the woman's perspective).
See also…
When follow-up care is required