Our programs at COPE involve a range of innovative and exciting programs of work in the field of perinatal mental health. Our programs include:
Review of Australia's National Clinical Practice Guidelines
The Centre of Perinatal Excellence (COPE) has been commissioned to undertake a review, and update Australia's Perinatal Clinical Practice Guidelines. These Guidelines were initially developed by beyondblue in 2011. The Guideline development will be informed through the development of an Expert Working Group (EWG), formed through nomination of representatives from each of the Professional Bodies representing primary, maternity, postnatal and mental health care (as reflected in COPE's Membership). The current revision of the Guidelines and development of companion documents for health professionals, consumers and carers is due for completion in May 2016.  This will follow extensive consultation with consumers, carers, professionals and governments which will be undertaken later this year, and the submission of the Revised Guidelines to the NHMRC Council for endorsement (March 2016).
Aboriginal Mapping Project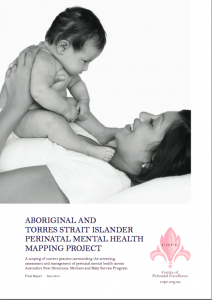 Funded by the Commonwealth Government, this detailed scoping study sought to determine the degree to which core components of Australia's National Perinatal Depression Initiative (NPDI) are currently integrated across the 85 Aboriginal community controlled health organisations and primary health care settings that are funded by the Commonwealth to provide New Directions Mothers and Babies Services. Using extensive qualitative and qualitative methods, the project has obtained important insights into current awareness, attitudes and practices amongst health practitioners across these New Directions settings.  In particular, current practices surrounding screening, treatment and referral pathways has identified current opportunities and barriers to best practice in perinatal healthcare across Aboriginal and Torres Strait Islander populations nationally. To view or download the full report click here.
Having a Baby – Understanding your emotional journey
Following extensive qualitative research revealed a range of issues for women who are experiencing depression and/or anxiety during pregnancy, this large scale study seeks to quantify the extent to which these findings are relevant to the broader population.  Through undertaking an anonymous and confidential online survey with over 1000 women to date, the findings have revealed detailed insights into women's experience of symptoms, stigma, help-seeking behaviour and experiences with treatment services.  This information has been used to underpin the information that COPE provides to women, families and health professionals, informs our strategic directions, and enables us to identify areas of need for advocacy surrounding perinatal care. To take part in this important research and inform the work of COPE click here.
Valuing perinatal mental health
In order to estimate the costs incurred by perinatal depression and anxiety associated with births in 2013, COPE in partnership with PricewaterhouseCoopers (PwC) are undertaking an economic analysis of costs incurred for not treating perinatal depression and anxiety. These findings reveal the potential scale and scope of perinatal depression and anxiety in Australia for one year. To download the report click here.
Perinatal Workplace Mental Health (PWMH) Workshop
From 'Working Person' to 'Working Parent'
The Perinatal Workplace Mental Health (PWMH) workshop builds upon existing national workplace programs to provide a much needed perinatal focus. Developed by Transitioning Well (TW) in partnership with COPE, this three hour workshop is underpinned by the nationally endorsed Perinatal Clinical Practice Guidelines, designed for senior executives (e.g. WH&S, HR, Talent and Diversity, Return to Work Specialists etc.) and facilitated by an accredited perinatal workplace psychologist.   Key Learning Outcomes:
Explore the mental health risks associated with the perinatal period from a workplace perspective including the high level of resistance to seek help;

Increase awareness regarding the costs and business case for perinatal workplace mental health;

Understand organisational/managerial obligations/duty of care in managing perinatal mental health (individual/team/organisation);

Develop practical strategies to proactively identify and respond approriately to perinatal mental health in the workplace (ensuring policies and practices are in line with best practice);

Access the most up to date resources that can be distributed to your teams and organisation more broadly (including appropriate referral pathways); and

Apply the workshop learning's through 'real life' case studies and practical discussion.
'Opening the eyes of Australian workplaces to the hidden costs of perinatal workplace mental health'
Some Facts:
#1: Perinatal depression has been estimated to cost Australian workplaces $310.34M – men ($223.75M) and women ($86.59M) (Deloitte, 2012).
#2: If perinatal depression and anxiety were not identified or treated for births in 2013, this would lead to lost productivity costs estimated at – $158M (maternity) and $68M (paternity) (PWC, 2014).
#3: Of the 84% of mothers who reported experiencing discrimination in the recent AHRC Supporting Working Parents Review, 72% reported a negative impact upon their mental health.   Through our affiliation with the CommuniCorp Group and their team of national psychologists, this workshop is available Australia wide.
For more information about the program and how this can be tailored for your workplace contact info@cope.org.au or info@transitioningwell.com.au